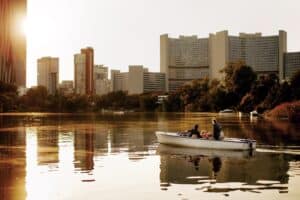 Summertime and water belong together in a way. Now Vienna (unfortunately) still is far from the sea, but that is no reason not to offer lots of exciting activities around the water.
How about boating?
So in today's blog, it is all about boating; yes, you read correctly because Vienna's an excellent offer combining several things. But first things first.
As you know, Vienna is settled around the River Danube, and a "side arm" of it, the Danube Canal, flows through the city center. So there are plenty of opportunities to explore the city from another point of view, from the water.
Of course, always assume you will stay calm. Otherwise, it turned the way it did for Christian and me, as we did with friends in Barcelona on a harbor cruise, an extended version because we both wanted to see as much as possible. Our friends were not fine as they forgo telling us that they get seasick. Well, both were so happy having solid ground under their feet again.
Want to go sightseeing and even more?
But back to Vienna, because that is what you want to explore. So what are the offers?
A classic is the offer of the DDSG (so and now the long form: Danube Steamship Company, in German: Donaudampfschifffahrtsgesellschaft). From April to October, it offers various sightseeing and theme cruises. Sightseeing by boat, Heurigen trips, cocktails at the Summer Lounge, and much more await you. The complete listing can be found on the website of the DDSG; just let yourself be inspired.
Do you want to take an excursion?
Then starting from the pier on the Danube Canal, two amazing offers are waiting for you:
The Twin City Liner, an express catamaran, brings you directly to Bratislava in a short time, another exciting city to discover.
Or would you like to visit a National Park? Yes, a National Park settled right on Vienna's outskirts, there is the National Park Donauauen. From the Danube Canal, a boat goes directly to the National Park, where you can see not only from the ship the "jungle" but can also go hiking, go on a guided excursion, and much, more. The information you get at the website of the boat company.
Do you like to have an individual tour?
Do you like exploring everything around the Danube Canal individually? Then you will love the 1st Vienna boat taxi . Whether you're participating in one of the theme cruises or putting together your private journey, that's up to you.
If you want to be a bit more on the sporty side (a boat without a motor), then you can rent a rowboat on the Old Danube, and there you go. Again, there are special offers like full moon tours, boat picnics, and much more. So check all the information on the website od the Old Danube.
And if we are talking about water, Vienna's water sports offer can compete very well with the beach and sea. But that will be another story soon…
So which one is your favorite?