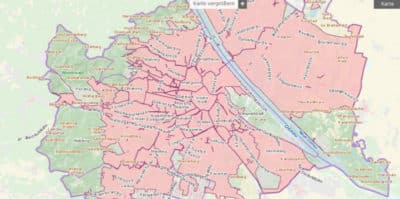 Parking in Vienna with all the regulations can be a bit challenging. But with the necessary information, you can park your car very relaxed.
Short-stay parking zones in almost all of Vienna
In Vienna, there is a short-stay parking zone, and parking is charged from Monday to Friday (holidays excluded) and is limited in time. The short-stay parking zone goes from 9 am to 10 pm, and you can park for a maximum of 2 hours.
Other regulations apply to Viennese shopping streets and around Stadthalle.
In addition, there are also the residents' parking spaces, which are signposted separately. In some districts, there are specially reserved parking areas for residents. You are not allowed to park here; the zones are also valid on weekends and public holidays.
Short-stay parking zones are always marked at the entrance area of the respective district with a blue ground marking and corresponding signs.
You must complete a parking ticket to park in a short-stay parking zone. Christian and I are happy to explain how to fill the parking ticket correctly. If you only stay for a moment, there is a 15-minute free parking ticket, which may not be combined with other parking tickets. For all longer times, you need parking tickets for 30 minutes, one h, 1,5h, and two h. But remember to pay attention to the maximum parking time. If you use several parking tickets, you have to enter the same start time.
Where do you get the parking tickets?
tobacconists
petrol stations
Ticket offices of Wiener Linien
Ticket machines of Wiener Linien
By mobile phone – there is a separate app for download
Parking with us in Hernals
In Hernals, the short-term parking zone is valid from Monday to Friday (holidays are excluded) from 9 am to 10 pm. You can park for 2 hours. A special regulation, just because it is a shopping street, applies to the Hernalser Hauptstraße. Here you can park only for 1.5 hours, and the short-stay parking zone is Monday – Friday from 08 – 18h and Saturday from 08 – 12h.
As our guest, you have at any time the opportunity to use our garage for EUR 15 per day. Park your car comfortably and safely in the house.
Garages, Park & Ride, and more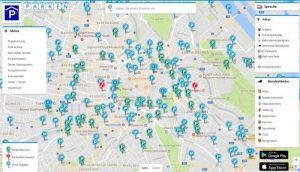 An excellent overview of where the nearest public garage is, you can find on Parken. at
A unique feature among the garages is the Park & Ride facilities. These are located on the outskirts, are directly connected to public transport, and the daily rate of currently EUR 3.6 is unbeatable. By the way, the next one is in Ottakring.
But there are public garages and many home garages for the residents. And here, there are often places that are not used. At least until recently. Because now there is PAYUCA and this company helps you use such parking lots. Just download the app, and you'll see where the nearest free parking space is. By the way, you can reserve it in advance.
So, if you are traveling by car in Vienna, always pay attention to the street signs, take the information brochure with you, and find your way around.
Fees and prices in the article are as of 02/2022.