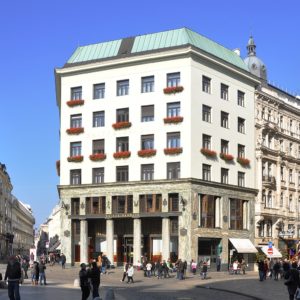 Vienna is known worldwide for its unique architecture. From imperial buildings like Schönbrunn Palace to modern architecture by contemporary visionaries. Many buildings tell their own extraordinary story, which can sometimes be very moving and emotional.
A well-known house in the middle of the city center caused pure horror when it was built in Vienna: the Looshaus in the first district on Michaelerplatz.
When opulent Art Nouveau meets noble simplicity
It all began in 1909. At that time, the house was commissioned as the new business address for a posh clothing store. Art Nouveau strongly influenced Vienna at that time with its opulent, often extravagant, floral patterns. It doesn't matter whether it's buildings, furniture, fabrics, jewelry, art… it could be lavish. Renowned artists such as Gustav Klimt, Koloman Moser, Otto Wagner, and Egon Schiele shaped this period.
But then Adolf Loos got the order to build this house in the center of Vienna. What he then made for the Viennese right in the heart of their city caused an uproar among the people. People were appalled and outraged.
But what happened? What kind of house was built here? A simple, absolutely functional building with no visible facade. There are no window coverings that were common at the time, just a facade without any "decoration." The house quickly got its nickname: the house without eyebrows. And it is still known by that name today. By the way, the legend says that even Emperor Franz Joseph wanted to avoid looking at this house as much as possible.
But what to do with a pack of appalled, outraged Viennese? You try to find a compromise. And that said, the house gets some decorations: flower boxes in front of the windows.
The Looshaus today
But, as so often in life, appearances are deceptive. Because as simple as the house is on the outside, its interior is just as magnificent. The most precious materials and the most delicate artistry await you. After all, it had to serve as the framework for a posh men's fashion store.
Today you will find a bank here. The rooms on the ground floor are open to the public, so you can get an idea of the ambivalence of the house, which radiates simplicity on the outside and shows splendor and splendor on the inside.