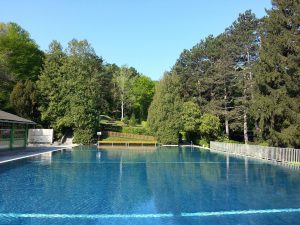 Currently, Vienna faces absolute summer temperatures, and on these days, you really have to spend the time outside enjoying the great weather. Therefore, I have compiled a nice mixture of how to spend a summer day in Hernals. Very relaxing and easygoing.
Significantly as the temperatures rise, Vienna, like most large cities worldwide, can get hot and stuffy. So let us assume you have already explored Vienna and have done most of the items from your "must-do in Vienna" list. Then why not take a day off from sightseeing planning a lazy, relaxing day. And if you do not want to move far away from the apartments, I have some suggestions on how to spend a pleasant summer day just nearby.
Energized through the day
So then, let's start right into your summer day in Hernals. Start with breakfast. I cannot offer you this personally, but there is a delicious alternative to making it yourself. Just cross Hernalser Hauptstraße, and the Cafe Heiner is already waiting for you with a wide variety of breakfast. Also, the organic food store offers a tasty breakfast that you can compile from what you find there. Energized and relaxed after a fine breakfast, it might be already late morning with the temperatures rising steadily. So then, head back to the Ferchergasse and prepare for the next part of your day.
One day almost like being at the sea
So what could now be better than spending a considerable part of the day at the outdoor pool? More or less just around the corner is the Kongressbad, with a large pool and a spacious area to lie down. As it can get quite crowded here, I have another, more tranquil, suggestion for you too.
Much more relaxed and quieter is the Neuwaldeggerbad. Take tram 43 until the last stop (which only takes a few minutes), then walk a few meters, and there you are in the Neuwaldeggerbad embedded in the wood. Simply relax. If you get hungry, you also get something to eat. Swimming, reading, sleeping, sunbathing, relaxing…
Unfortunately, the pools both have a closing hour, so the time comes when you have to return to your apartment. But don't spend much time there. Just refresh yourself and make yourself ready for chilling out in the neighborhood. Some charming and comfy restaurants are nearby, so ask Christian or me for any recommendations.
The perfect end to a perfect summer day
If you want to crown your summer day with ice cream, then the ice cream parlor Arnoldo has a wide range of ice creams. Also just across on Hernalser Hauptstraße. From my experience, I can tell you the ice cream is delicious and mouth-watering.
I wish you a beautiful summer day in Hernals. If you need large towels, a picnic blanket, a beach bag, or any other summer day equipment, just let us know, and we will prepare you with all the needed things for your perfect summer day.