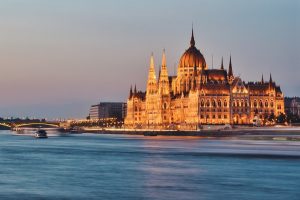 Austria and Hungary have a long history together, and the two main cities, Vienna and Budapest, have much in common. And yet they could not be more different.
Since Budapest is only around 250km away from Vienna, it is still possible for a day trip. And it is worth seeing, in any case, almost a pity if you only have one day here.
I am also very much connected with Hungary because my father is Hungarian; therefore, part of my family lives in Hungary. And so I was already short on every year several times in Hungary. Since my father also has a big garden outside of Budapest, Christian and I have found the perfect place for holidays very close to Vienna. And then there is always a visit to Budapest a must.
Let's go to Budapest…
What comes to your mind if you think of Budapest? The most famous sights are the Chain bridge, the Buda Castle with the Matthias Church, the Fisherman's Bastion, the St. Stephen's Basilica, the Heroes' Square, the Opera, the Gerbeaud pastry shop, the market hall, the thermal baths, and the Gellert Hill. And these are just a few of the sights.
But as in Vienna, as soon as you leave the well-known tourist paths, there are so many beautiful squares and quarters, it is tough to say where I like it best. Some of them have a southern flair, some of them are the big city and other quarters are young and pulsating.
Apart from the sights, you will be spoiled in Budapest with lots of delicious food. Hungarian cuisine has much to offer, not only goulash (called Pörkölt in Hungary because goulash is what we know as goulash soup).
A city with many facets as you see, and in addition, as in Vienna, the Danube runs through the town and conjures up an extraordinary atmosphere to the promenade.
I can recommend a visit to Budapest from my experience. Although, as I said, one day is usually too short, but better than not seeing the city at all.
All information about Budapest, the sights, activities, and much more can be found on the website of Budapest Tourism www.budapestinfo.hu.
Your journey by boat, train, bus, or car
Well, do you want to explore Budapest? Great, then you only have to decide how to get there.
If you like the train, then the ÖBB offers you train connections the whole day.
Very comfortable is also by bus. Here Flixbus offers you all-day direct connections. Just look on the website for the departure times. The ride itself takes about three h.
By car, you need about 2.5 hours to the capital of Hungary. For the Hungarian highway, you need a vignette that you get online with VirPay.
All from one hand
If you wish to leave the planning and organization of your trip to Budapest to others and do not have to take care of anything, then I recommend the tour of the Vienna Sightseeing Tours. You can go to Budapest by bus and get a full-day program in the city. The tour you can comfortably book online. So sit back and enjoy the trip.
No matter what you choose, Budapest is worth visiting, and you can enjoy the city in one day. And then already plan what you will do when you come back.
So, when do you plan to go to Budapest?